J. Digit. Mark. Commun. , Vol. 1 Iss. 1 (2021) – 5 articles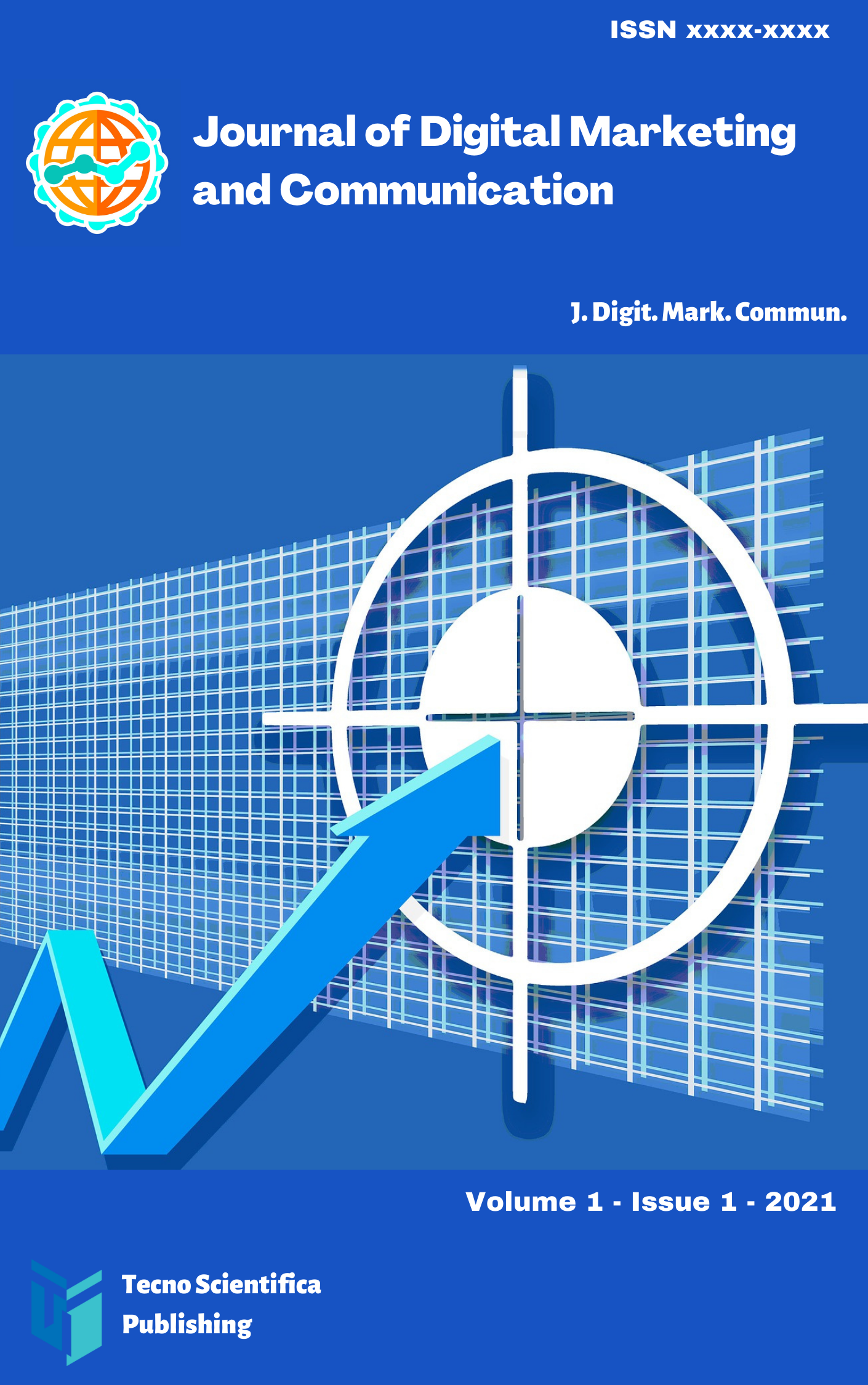 Issues are regarded as officially published after their release is announced to the table of contents alert mailing list.
You may sign up for e-mail alerts to receive table of contents of newly released issues.
PDF is the official format for papers published. To view the papers in pdf format, click on the "View PDF Full-text" link.
by Adamu Abbas Adamu, Bahtiar Mohamad, Kinkin Yuliaty Subarsa Putri
J. Digit. Mark. Commun. 2021, 1(1), pp 1-6; https://doi.org/10.53623/jdmc.v1i1.37
307 views
Abstract
Over the last three decades, a series of research has revealed how strategic communication may have a profound effect on how members of society behave. More precisely, communication theories have docu
mented the media's ability to determine the agenda in society. The situational theory of problem solving is particularly interesting because it explains why and how individual members of society communicate during a problematic situation. This hypothesis has been evaluated in a variety of contexts to determine its efficacy. However, few studies have been conducted to examine the influence of communication from corporations or government to community members. The character of persons, particularly employees' information seeking and sharing behavior, has been significantly overlooked in the context of COVID-19. The purpose of this study is to investigate theoretically how employees process, seek, forward, filter, choose, and exchange information regarding COVID 19.
[...] Read more.
Full text
---
by Samuel Adeyinka-Ojo
J. Digit. Mark. Commun. 2021, 1(1), pp 7-12; https://doi.org/10.53623/jdmc.v1i1.48
226 views
Abstract
The purpose of this paper is to share the author's online teaching experiences on increasing student engagement and learning experiences in a digital teaching environment using the discussion board
tool. Blackboard was adopted as the learning management system at the author's affiliated university for digital teaching and learning delivery during the COVID-19 pandemic era. A discussion board is a communication tool contained within Blackboard Collaborate Ultra that can be used to enhance learning and teaching. To achieve the purpose of my personal reflection reporting, this study asks one question of the participants: how would you describe your learning experience and engagement with your lecturer and fellow students using the discussion board tool for pre-tutorial and group assignments? This paper presents the context, reflection, and case scenarios of three UG teaching units concerning fostering student engagement in a digital learning environment through the discussion board tool. Findings indicate that there are three stages of student engagement using the discussion board tool, namely: tutor-student engagement, student-student engagement, and student group-student group engagement. The discussion board tool encourages an active learning experience. The implications of my reflective account show that fostering student engagement in a digital learning environment through the discussion board is important for both tutors and students. It is recommended that more faculty members explore learning and teaching resources available on the discussion board tool in the "new normal" era.
[...] Read more.
Full text
---
by Russel Wei Wern
J. Digit. Mark. Commun. 2021, 1(1), pp 13-18; https://doi.org/10.53623/jdmc.v1i1.43
287 views
Abstract
This paper analyses the relationship between Stakeholders and Corporate Reputation in the Education Industry. Through the qualitative research methodology of surveys, responses from stakeholders of di
fferent levels in the education industry has been analysed. More specifically, the areas of corporate reputation analysed were stakeholders' management, stakeholder communication, Integrating Stakeholder Management and Communication to become Stakeholder Engagement, corporate reputation, image and identity and reputation and trust. From the analysed survey, it was found that engagement through actions of the organisations towards its stakeholders creates value and trust as two-way symmetrical communication for greater decision making.
[...] Read more.
Full text
---
by Fifi Ee En Liew
J. Digit. Mark. Commun. 2021, 1(1), pp 24-28; https://doi.org/10.53623/jdmc.v1i1.45
680 views
Abstract
Artificial intelligence is bringing to the forefront of public relations functions new challenges as well as opportunity to achieve efficiency in communication with stakeholders. As shown in recent wo
rks, the acceptance and usage of artificial intelligence technologies by organization can help in measuring the return on investment of public relations efforts and ascertain congruency between organizational goals and objectives. This essay based on reflections and an interview with an experience public relations practitioner. The essay end by showing that artificial intelligence technology is here to stay. Therefore, public relations practitioners need to be adept of the technologies in order to increase the effectiveness of public relations functions.
[...] Read more.
Full text
---
by Norhaznan Nor Farzanah
J. Digit. Mark. Commun. 2021, 1(1), pp 19-23; https://doi.org/10.53623/jdmc.v1i1.44
387 views
Abstract
One of the most significant intangible organisational assets is reputation. It's a complicated phenomenon that needs to be handled carefully. In fact, it has been proven that an organization's reputat
ion is a prerequisite for individual stakeholders' willingness to participate in a relationship with it. This essay seeks to clarify the communication tactics that should be utilised to restore an organization's reputation that has been harmed by a problem. A case study of postal currier services was used to demonstrate how a problem might lead to a negative reaction from stakeholders. In maintaining an organization's reputation, the essay stated that addressing the issue immediately, developing inclusivity among employees, and organisational commitment as a corporate citizen are all vital.
[...] Read more.
Full text
---